7 Tips To Upgrade Your Online Store With Searchandising
---
Introduction
Searchandising, a combination of 'search' and 'merchandising,' refers to using advanced search technology to optimize product search results and improve the shopping experience in an online store. It goes beyond conventional search capabilities, incorporating merchandising techniques to influence customer behavior and increase sales. Here are some ways to upgrade your online store with searchandising:
#1. Advanced Search Capabilities With AI
Implementing an AI-powered search engine that understands natural language, synonyms, and user intent is now a must. This will enable shoppers to find products quickly and easily instead of manually browsing a never-ending list of items. According to Google Cloud, 69% of consumers agree that a successful search experience results in purchasing extra items.
Apart from your search results pages, remember your instant search box. Use autocomplete and real-time search suggestions to help customers find products in the search box. These suggestions can be based on popular searches, trending products, or the customer's browsing history. Online merchants should enable synonyms to merge the results of similar-meaning words, which brings hyper-relevant results.
Stop words is another function to consider here. What is it? It's actually to filter out function words from the queries to help your search engine on important content words and understand the search query correctly.
#2. Personalization
The whole industry has talked about personalization in eCommerce for years, and giant e-retailers like Amazon are always a prime example. The good news is small and medium-sized businesses can tailor shopping experiences to stay ahead in the game.
(Source: GAP)
GAP guarantees that its customers see the most relevant results based on their preferences. The brand allows users to choose their favorite things based on categories, shops, and accessories on the Sale collection page. At the same time, the horizontal filter choices assist in narrowing down the results.
(Source: Equal Exchange)
As 93% of online buyers prefer free shipping, remind them how much more they need to spend to achieve free delivery. Equal Exchange presents best-selling products just beneath the shopping cart summary, saving customers time searching for additional products. Creating onsite product recommendations based on where customers are in their journey will result in a more intuitive and hyper-personalized experience.
#3. Visual Search
You might have seen a visual search function that allows customers to search for products using images on eCommerce stores. This feature enables users to find products similar to the ones they like, driving product discovery and customer satisfaction.
(Source: IKEA)
In 2019, IKEA incorporated visual search into its Place augmented reality (AR) app. Place, which utilizes augmented reality to help buyers visualize how IKEA's furniture might look in their homes, now lets users take images of any furniture to find similar IKEA products.
#4. Dynamic Merchandising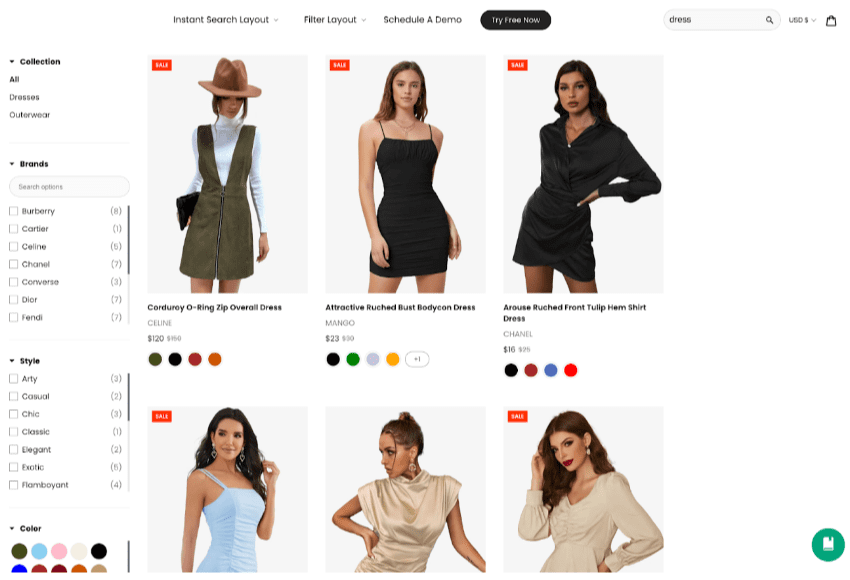 Use merchandising rules to dynamically adjust search results based on real-time data, such as popularity, inventory levels, and promotional offers. Promote high-margin products or clearance items strategically to increase sales.
Use merchandising strategies to align with your marketing calendar and seasonal promotions.
Store owners can set merchandising rules by emphasizing keyword-based search relevance. Besides, merchandising tools now allow users to create adaptable strategies like online merchants are able to pin, boost, hide, or even demote specific items. And yes, you have full control over how your products appear on your storefront.
#5. Analytics and Insights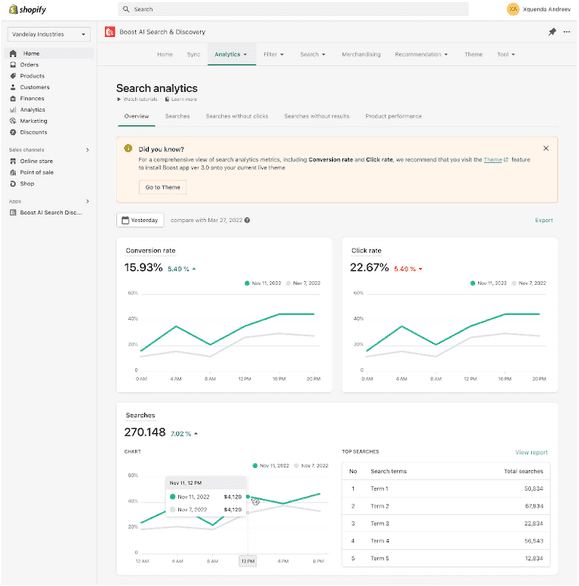 Use data analytics to gain valuable insights into customer search behavior, popular search terms, and conversion patterns. Use this data further to refine your searchandising strategies and important customer touchpoints.
Based on a breakdown of your customers' search behavior in your store, you'll gain invaluable insights to adjust your strategies, maximizing AOVs and winning customer loyalty.
You Might Also Like:
#6. A/B Testing
Remember that no approach fits all. Hence, you'd better conduct A/B testing to experiment with different searchandising strategies and measure their impact on customer engagement and conversions. This iterative approach will help you optimize your searchandising efforts over time.
Bottom Line
Upgrading your online store with searchandising techniques can create a more personalized, efficient, and enjoyable shopping experience for your customers. Implementing advanced search capabilities and merchandising strategies will increase customer satisfaction, lead to higher conversion rates, and improve overall sales performance.
---
---