langify vs Weglot | Shopify Translations App
---
In the immense diversity of today's market, not translating your store is no longer an option. To reach wider audiences and achieve your store's greatest potential, you need the right app to translate your store's content
Finding the right app on Shopify can be tricky, especially with so many different ones coming out. But investing the time in choosing the most suitable one will pay off. And although there are many different choices, some apps stand out as the best, and most prominent options.
What to look for in a Shopify translation app
All Shopify translation apps share the same goal: to ensure your potential customers understand your store's content. And as a result, to help you reach a greater range of buyers and generate more sales.
There's a few specific things you should look out for when it comes to evaluating your translation app options. Even though all the apps want what's best for your business, each one has unique characteristics that make all the difference in getting you the greatest ROI.
Langify vs Weglot – Details
Langify and Weglot are two of the most reputable translation apps on Shopify available today. They are both easy to set up and powerful multilingual ecommerce builders. But there are subtle differences between the two, detailed below.
Let's start with langify's features. By starting your plan, you don't just get the basic translation services. You also get full SEO support with automatic hreflang tag implementation (Provided from Shopify multi language API "GraphQL") and 24-hour premium support from the langify team. You additionally get unlimited imports and exports of your translations available in different formats (e.g., CSV, PO/MO).
And we've saved the best for last – langify offers a single subscription plan! so you never have to trouble your mind with options. For a standard price of $17.50 a month, you get all the services mentioned above. Plus you also don't have to worry about extra fees you have to pay for additional services later on because we've got you covered – one plan does it all! Start today with a free 7-day trial.
Weglot has some features in common with langify, especially when it comes to having a user-friendly interface. Weglot is also easy to install and set up and can translate your entire store. But there's a lot Weglot lacks, and it falls short in being the best translation app you can choose. For starters, it's pretty expensive. Although you do get a trial period, you end up having to choose a paid plan between €15 and €699.00 a month after that. If you want the full package, you'd have to significantly exceed your budget.
4 Reasons to choose langify
Of course there are more than 4 reasons to consider when finding the best translation solution for your business. Lets talk about the top ones to start…
Support – langify offers you full-time premium support in setting up your store and for anything you might need after that. Don't underestimate the value of a responsive, knowledgeable team, even for the simplest tasks! And if you'd rather go through the steps alone, just check the free online guides and get started! You have a free 7-day trial, after all.
SEO – Full SEO support! If you're serious about building a multilingual ecommerces store, you have to make sure it works the way it should. langify takes care of that, guaranteeing that your customers are shown the store in their preferred language.
Service – With langify, you own your translations. Unlimited imports/exports of translated content has been a rare feature to find, lacking in most if not all other translation apps – Weglot included! Having these downloads means you have access to your translations whenever you need them.
Price – langify's subscription is the most cost-effective! Since there's only one plan granting you access to all translation services you may need, you end up saving time and money.
Here a some further details in comparism to consider:
In summary, langify gives you a wider range of services, more personalized customer support, and a better payment plan. When you think about it, there really isn't any alternative.
Pricing: langify vs Weglot – What are the facts?
When talking about the pricing, we actually mean the overall costs to translate your e-commerce store, in order to make the most ROI. We want an easy setup, Best Price and optimal performance.
Let's talk about the price first. langify is fair and easy to understand. One price, to translate up to 20 additional languages, $17.50! Optionally, you can purchase word packets to automatically translate your content. (50k words for $19.90 one time payment). Shopify.
Weglot on the other hand has 7 different subscription plans. Depending on how many words you translate and into how many languages.
langify has a free trial for 7 days with full app service and support (translate into 20 languages)
Weglot also offers a free trial (10 days) and a free plan. But don't get fooled. The "free" plan is only for one language and 2000 words (Most theme translations contain more than 2000 words!)
Here the pricing details for langify and Weglot (December 2022)

Sample Calculation (over 6 months)
Let's compare the two apps on behalf of 3 sample stores with different word count and additional languages over the period of 6 months.
What are the initial costs and the overall costs after that time?
All three stores are using the automatic translation feature from the respective app. With langify you only pay once for additional words and then a flat monthly price. While Weglot charges the initial full price every month for the respective plan. (As they are not connected to Shopify's multi-language API)
| | | | |
| --- | --- | --- | --- |
| Overall costs after 6 months | Store A (50k words + 1 language) | Store B (100k words + 2 languages) | Store C (500k words + 5 languages |
| Weglot | $174 | $474 | $1794 |
| langify | $124.90 | $144.8 | $304 |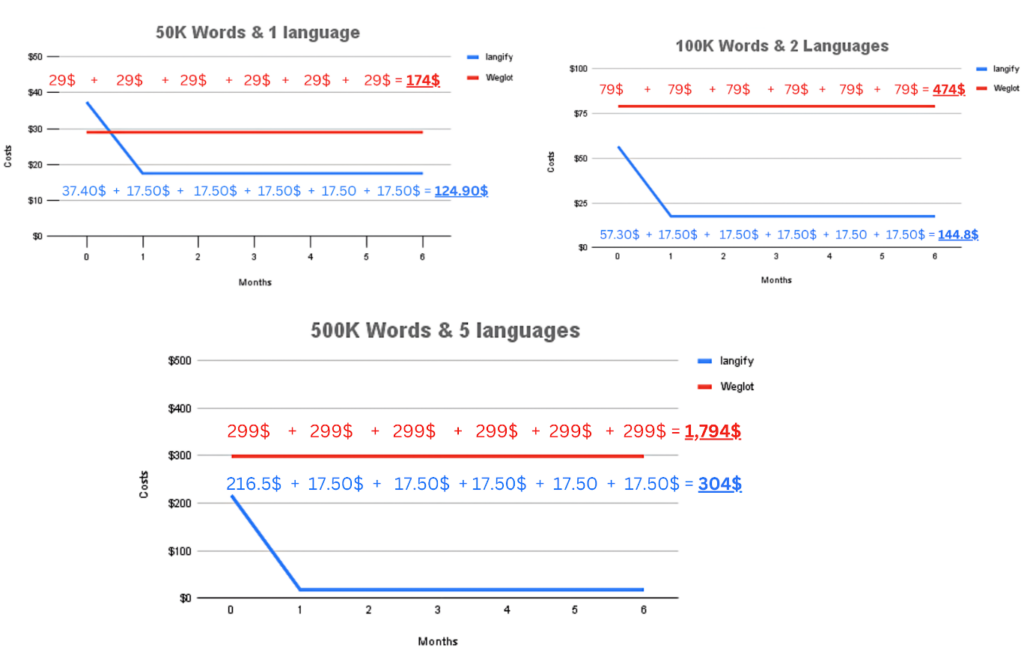 With langify you have a flat monthly subscription fee, period. Very fair and easy. $17.50 per month for up to 20 languages. Full app functionality with premium support 24/7. (No hidden Costs!)
Conclusion
In terms of translation service quality, the major downsides of Weglot is the price, storage and processing for your content. langify is more affordable in most use cases. Exclusively developed and supported for Shopify with unique features such as e.g. custom content to also translate (most) third party apps. You have double security as your translations are stored on Shopify's and langify's servers. And you actually own all your translations!
So which stores would benefit more from which app solution?
Weglot
Stores with only 2000 words & 1 additional language
Stores not exclusive to Shopify
langify
Stores with a set budget for translations
Stores with more than 10k words and up to 20 additional languages
Stores exclusive to Shopify
Try it yourself and compare both apps service and performance.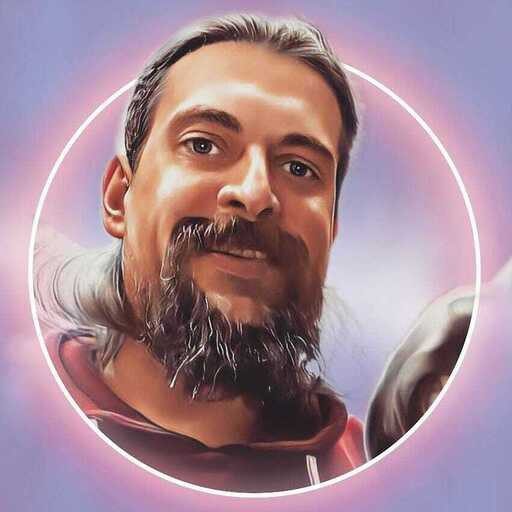 "Business is the profession. Harmony the passion."
Connecting people and customers is the key. In e-commerce & general. Tones & Music are a wonderful communication tool. Only 7 tones define it and are understood all around the world
---
---